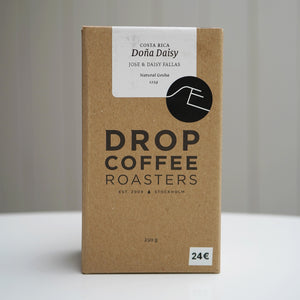 Doña Daisy Natural • Costa Rica • 125g
Please note: This bag contains 125g of coffee. 

Filter roast
Producer: Daisy and Pepe Fallas

Origin: Finca Don Pepe, Central Valley, Costa Rica
Cultivars: Gesha
Process: Natural

Flavour: Canned peaches, jasmine, juicy
Altitude: 1700 masl 
By Drop Coffee:

This is a very fancy coffee. The Gesha varietal is tricky to grow and to make perfect. There is a lot of hype around the varietal which drives up the prices. So if you want to buy a bottle of champagne but in coffee, grab this one! It is the third production lot of the complex and famous Gesha from Doña Daisy, and the third year we are buying it. But it is the very first time they have done a natural process. This coffee has dried on raised beds for forty days while being very well controlled and monitored. So it is still elegant and you can taste the delicate notes of jasmine, typical for the varietal. It is not very funky, more sweet and candy like, with some canned peaches.