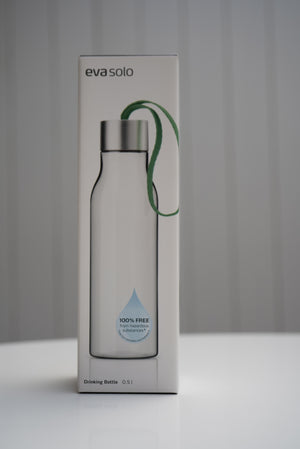 Eva Solo's 0.5L Drinking Bottle.
0.5 L 
DRINKING BOTTLE - BOTANIC GREEN
Be kind to the environment and avoid buying bottled water on the go! Bring your own bottle instead and refill again and again...
The drinking bottle is made of BPA-free plastic, which means that it contains no bisphenol, phthalates or heavy metals. The plastic bottle itself is dishwasher-safe. The screw-top lid must be washed by hand.
Product facts:
Impact-resistant BPA-free plastic
Practical design
Perfect for everyday use, training and holidays
Materials:

BPA free plastic, Stainless steel, Silicone, Polyester

Maintenance:

Dishwasher-safe bottle, lid must be washed by hand